Listens issues of public importance; sought effective public participation in implementation of JJM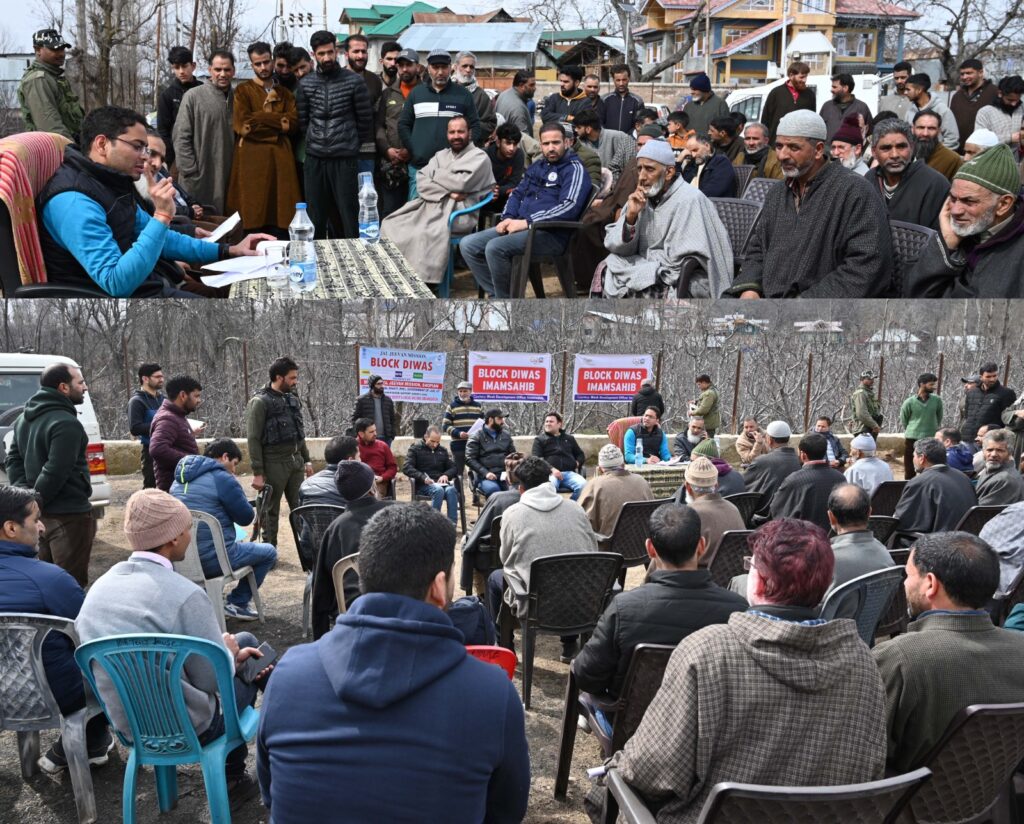 SNS KASHMIR
SHOPIAN, FEBRUARY 22:
The District Development Commissioner, (DDC) Shopian, Sachin Kumar Vaishya today presided over a Mega Block Diwas at Baskuchan Panchayat in Imamsahib block.
People of the concerned area flagged-off various developmental issues, grievances during the Block Diwas pertaining to drinking water availability, electricity, road connectivity, development of playfields, upgradation of GMS Baskuchan, and other rural development works.
People also demanded early functioning of the Water Supply scheme Hapdipora/ Nowpora and better power supply for New Colony Baskuchan, Imamsahib.
The DDC listened to all public issues and demands and issued directions to the concerned officers for resolving and meeting the demands on priority basis. Certain issues of emergent nature were redressed on the spot.
Emphasising upon the importance of Jal Jeevan Mission, DDC said that under the ambitious mission, potable tap water facility will be provided to each and every household of the district in a time-bound manner and directed the concerned for speeding up activities for realising the benefits of the Mission. He sought effective public participation in the implementation of Jal Jeevan Mission ( JJM).
He also directed KPDCL for providing better power supply to the New Colony, Baskuchan Imamsahib Shopian.
The DDC stated that joint and relentless efforts are required to make the Nasha Mukt Shopian a reality while seeking public participation in the Abhiyan. He also called for keeping close vigil on all vulnerable groups and ensuring effective enforcement against drugs.
The DDC laid focus on proper implementation of MGNREGA works and timely execution of UT Capex works for providing early benefits to the general public.
Among others, Joint Director, Planning, Khursheed Ahmed Khatana , Tehsildar, Chittragam, BDO, Chittragam, PRI's, Ex. Engineers and other district Officers.
General public and youth in large numbers also attended the Block Diwas programme.