It is high time to chalk out joint strategy otherwise it will be too late:Qayoom wani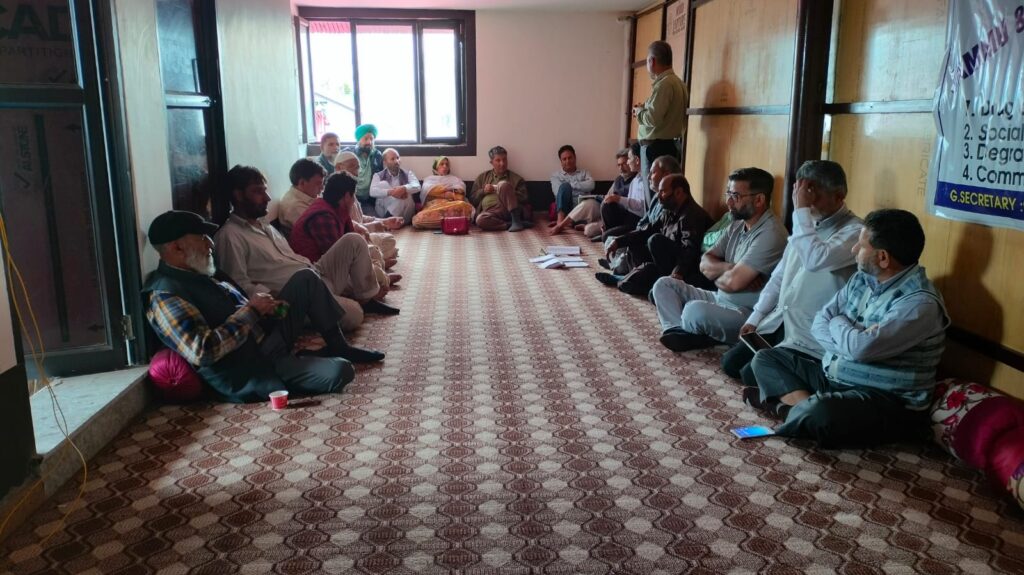 SNS KASHMIR
SRINAGAR , JULY, 08 :
A one day general council meeting of Jammu Kashmir Civil society forum(JKCSF) leaders and executive members was held today at its Central office Gogji bagh Srinagar under the Chairmanship of Ab Qayoom wani in the meeting all the leaders expressed their serious concern on the pandemic increase in drug addiction, social evils,moral degregation,in the the society and stressed for collective fight and strategy to root out this meance from the society .The leaders stressed for joint seminar of all the stakeholders under the banner of JKCSF for collective fight against all types of evils from the society.
Wani in his address urged upon all the leaders of JKCSF, religious scholars, intellectuals, businessmen,journalists ,
parents ,and student leaders legal Lumineers to feel the sensitivity of the present situation and play their role in shaping the society and make our society drug and social evils free other wise it be be too late and we will not fight out a swabber our tears.
Wani said that present situation of moral degregation is worrisome and we should shoulder our responsibility as a conscious citizen.
In the meeting it was unanimously decided to organise a joint seminar on these burning issues in the first week of August at srinagar in which people from all walks of life will be invited for their valuable suggestions to combat this serious social situation. In the meeting a prominent educationist and retired Principal Mtr Hanifa khanday from Handwara and well known trade union leader Gh Mohidin from budgam ( Harda panzoo) joined JKCSF and were given warm welcome from all the leaders of JKCSF at its Central office Gogajibag srinagar.