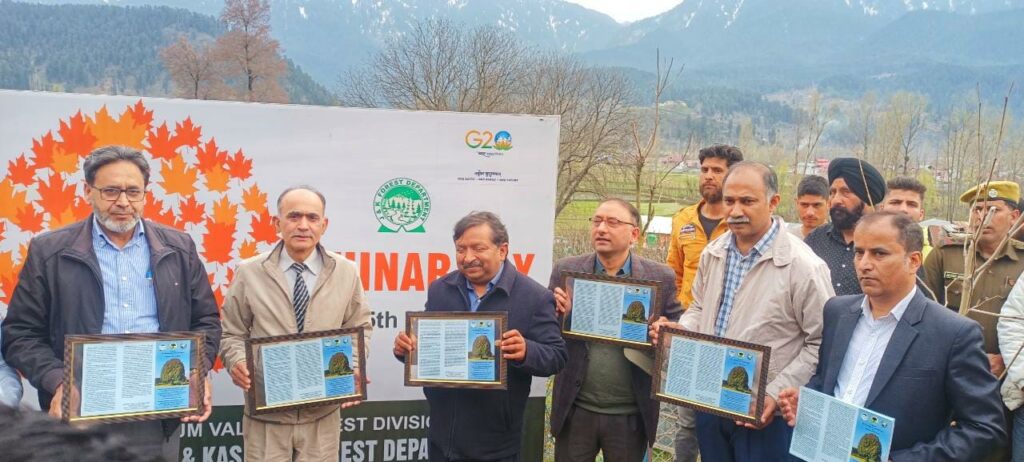 SNS KASHMIR
SRINAGAR, MARCH,15:
J & K Forest Department organised Chinar plantation drive at Fatehgarh Baramulla today on the occasion of Chinar Day. The chief guest of the function was Dheeraj Gupta IAS Pr. Secretary to Govt, Department of Forests, Environment and Ecology. Dr. Mohit Gera, Prin. Chief Conservator of Forests and Head of Forest Force was present on the occasion.
Dheeraj Gupta planted Chinar sapling in Panchayat Ghar Fatehgarh Sheeri and distributed Chinar Saplings among people to mark the occasion. While addressing the gathering, he said Chinar trees have huge environmental and cultural significance which is embedded in our heritage and culture and it enjoys special status in our lives, therefore we must accord primacy to its preservation by carrying out its propagation on a large scale.
He was informed by Pr. Chief Conservator of Forests that Forest Department has launched Chinar promotion and conservation programme in which Chinar saplings are raised in nurseries on a large scale, then distributed and planted on available land. He was informed that Forest Research Institute has initiated geotagging of chinars in Kashmir Valley in which Chinars are marked, geotagged, characterised and allotted unique ID's.
The Pr.Secretary released 'Chinar Brochure' prepared by FRI on this occasion. He distributed seed balls and fruit trees among beneficiaries of 'one beat guard one village' programme and distributed solar lights among members of Village Forest Committees of Uri and Boniyar on the occasion.
The Prin.Secretary also inaugurated mega plantation Drive in Co.73/B Fatehgarh. The drive was launched on 50 hectare of degraded forest land in which CRPF, Forest Protection Force, Students and PRI's members participated. The Pr. Secretary emphasized that tree planting target of 1.5 cr must be achieved under Green J&K Drive initiative during the current financial year.
Earlier, Pr. Secretary chaired coordination meeting of forest department and district administration to address the forest matters of Baramulla district in which DC Baramulla highlighted forest related issues. The Pr. Secretary instructed in the meeting to territorial Divisions to expedite forest clearances of JJM cases, remove forest encroachments in time bound manner, complete boundary consolidation in two years and remove pendency of FRA cases.
The meeting was attended by Asaf Mehmood IFS Director Forest Research Institute, T Rabi Kumar IFS Additional Chief Conservator of Forests Kashmir, Irfan Rasool IFS Conservator of Forests North, Pervaiz Wani DFO JV Forest Division Baramulla and other territorial DFO's.