Congress will put all it's might behind restoring statehood to J&K: Rahul Gandhi
2 min read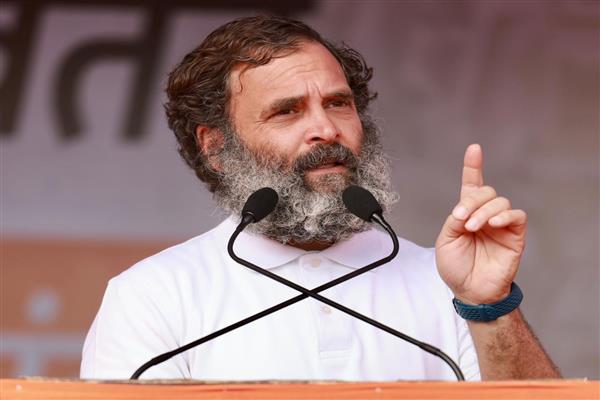 SNS KASHMIR
Jammu, Jan 23 :
Congress leader Rahul Gandhi on Monday said the party will put all it's might behind restoring statehood to Jammu and Kashmir.
Addressing a gathering in Jammu, Rahul said the Congress party will give full support and will put all its might behind restoring statehood to J&K. "There's no bigger issue than your (JKs) statehood. They (Centre) have snatched away your right," he said.
Rahul said he spoke to a cross-section of people from J&K during his yatra who raised their issues. He said they (people) told him that their voices are not being heard by the administration. "The entire trade is being run by outsiders and people of J&K watch them sitting haplessly," he said.
He said J&K has the highest level of unemployment in the country. The youngsters aspire to become engineers, doctors and lawyers but they do not find the way to make their dreams true, he said.
"There was another way (to get employment) earlier. It was with the Army. It has also been closed now by a new scheme, called Agniveer, introduced by BJP. That path is also now closed," he said.
Meanwhile, a Kashmiri migrant pandit delegation met Congress leader Rahul Gandhi on Monday during his Bharat Jodo Yatra in Samba district and briefed him about their various issues including targeted killings, protest of migrant employees employed under a Prime Minister's package etc.
The delegation said they have invited Gandhi to their Jagti township along the Jammu-Srinagar National Highway and the Congress leader is likely to visit the community on his way to Kashmir.
After addressing the gathering, Rahul Gandhi paid obesciance at Raghunath Temple in the interior of Jammu City where he offered prayers.
As already reported by KNS, the closing of the yatra, which started from Kanyakumari in Tamil Nadu on September 7, would culminate in Srinagar on January 30. From January 27, the yatra will travel to different parts enroute to Srinagar. A mega rally will be held at Sheri Kashmir Cricket Stadium in Srinagar on January 30. (KNS)