Drug peddlers will not be allowed to spoil youth, shall face severe punishment under the Law: Dr Syed Sehrish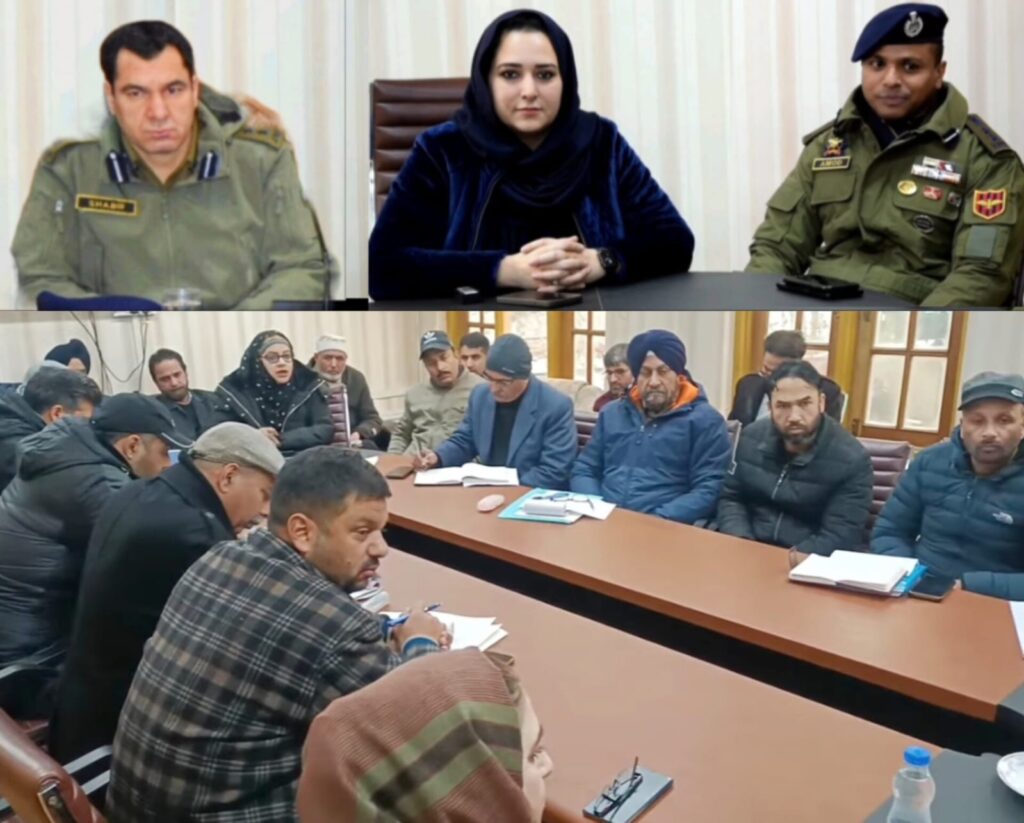 SNS KASHMIR
Baramulla, February 06:
The District Magistrate Baramulla (DC) Dr Syed Sehrish Asgar today convened 4th District level Narco Coordination Committee meeting (NCORD) here at meeting hall Baramulla.
Senior Superintendent of Police Baramulla, Amod Ashok Nagpure, Senior Superintendent of Police Sopore Shabir Nawab, Additional Deputy Commissioner Baramulla, Dr Zahoor Ahmad Raina,Principal Government Medical College Baramulla (Prof) Dr Ruby Reshi, Principal Government Degree College, Chief Medical officer,Dr Bashir Ahmad Malik, Chief Education Officer ChamanLal Sharma, Assistant Regional Transport Officer Anees Wani , District Social welfare officer Nissar Ahmad Wani and other members of the Committee were attend the meeting.
At the outset, the District Magistrate reviewed last decisions taken by Committee in 3rd district level (NCORD) Meeting , various issues related to menace of drug addiction, areas of concern, age group of addicts, hot spots of drug peddling, abuse, besides, cultivation of Narcotic Substances in the district.
The DM directed CEO to ensure that no tobacco product is sold near educational institutions as per rules.The DM also directed CEO to activate Nodal officers and teams to ensure Drug free Educational Institutions and Keep "Assist Tools" available in all Educational Institutions.The DM emphasised on conducting awareness camps in schools and colleges on mass scale to sensitize the youth about hazards and ill effects of consuming drugs. The Education Department was asked to promote anti drug abuse awareness in all educational institutions and its ill effects on society.
The District Magistrate also directed Arto to paste Posters on Commercial Vehicles With the slogan of "Say No to Drugs" and Mention Helpline numbers also on posters .
The DM asked concerned officers to make coordinated efforts to contain the drug peddling and break the supply chain besides taking stringent action against the persons involved in this dangerous trade.
DM sought cooperation from the religious heads, families particularly from parents to overcome the menace among the youth which also leads to other social evils and crimes.
The DC assured the departments that all requisite support will be provided by the District Administration for saving youth from the ill effects of the drugs.
The DM directed Assistant Drug Controller to get CCTV cameras installed at all medical shops, clinical establishments and chemist/ druggist shops which lie within the limits of schools, colleges, hospitals and masjids so that overall surveillance with regard to the containment of drug sales is enforced.
The DM also directed the Assistant Drug Controller to establish a 24*7 flying squad to check the unauthorized functioning of Chemists besides checking the sales of contraband drugs in the district.
The DM impressed upon the Police Department to strictly enforce NDPS to Curb drug Menace and was asked to keep strict vigil against drug proliferation,consumption.
On the occasion, Officers apprised about the situation with regard to the drug menace and shared their suggestions and measures to be taken at District level to control the drug peddling and its consumption, besides measures for rehabilitation of drug victims.