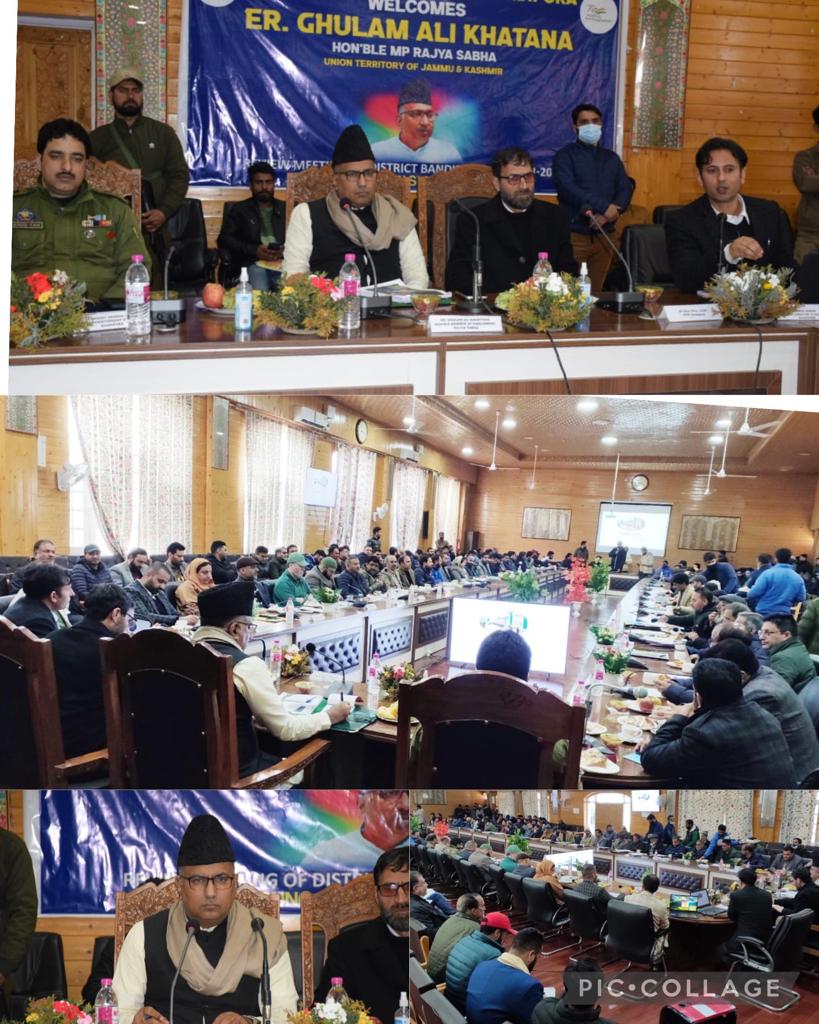 SNS KASHMIR
Bandipora, March 02:
Member of Parliament (Rajya Sabha) Er Ghulam Ali Khatana on Thursday convened a meeting of officers to review the developmental projects and implementation of centrally sponsored schemes especially the schemes for the upliftment of tribal community.
The meeting was attended by Additional District Development Commissioner (ADDC) Bandipora Ali Afsar Khan, Joint Director Planning (JDP) Imtiyaz Ahmed, Nodal Officer Cordinator M A Hakak, ASP Aashiq Tak, President MC Bandipora Basharat husain, President MC Hajin,SDM Sumbal
all other district officers and PRI members.
ADDC welcomed the guests and officers and introduced them to the chair besides informing him about the developmental plans.
On the occasion Joint Director Planning presented a detailed presentation of the developmental journey of the district from past few years.
While counting the achievements in the district, he said the administration carried out major dredging and desilting of Wullar lake at the cost of Rs 164 Cr restoring tje lake to original condition by desilting 78.32 lac cubic meters of silt besides generating a revenue of Rs 24 crores from auctioned willows from the lake. He said 6 kilometre long choked Naz Nallah was also desilted.
He said the power infrastructure received a major boost with argumentation of capacity from 50 to 100 MVA at 132/33KV Grid Station at Potushai besides construction of bridge at Zalpora, mini Secretariat at Dawar and Polytechnic College.
Meeting was further informed that projects including construction of 30-bedded IPD hospital at Gurez, construction of ITI gurez and transit accommodation at Odina.
He said the district witnessed visible transformation in road connectivity as over 440 kilometre length of roads have been macdamized in three years registering a record while PMGSY connected 41 new habitations through a web of roads in remote areas.
It was given out that new 290 kilometere road length has been sanctioned under NABARD with 112 Cr of annual investment while work is on progress on 107 minor roads.
The district administration has also started work on construction of a walkway on the banks of Wullar, he added.
Officera informed that the district received National Award for e-Governance on e- Governance at Hyderabad, Telangana for the innovative digital product "Panchayat Development Index (PDI)'' launched by the District Administration.
While informing the meeting about the major road projects under execution in tribal areas, JDP Bandipora said work is in progress for construction of Kota Sathri road, SK Payeen to Changali road, Khawaja Sahib to Chanpal Chittebandai road, Sunkar Ranghama Gujjarpati Goriwan road to Bandipora, upgradation of Quilmuqam to Hapatnar including Tangpathri Turk Mohalla, Reshwari and Munawarabad link, construction of Shokbaba Gujjar Pati Chadi road and Achoora Byepass road.
JDP informed that BEACON also completed 72 Kilometer Bandipora-Gurez road and Dawar-Chakwali road.
While explaining the implementation of Jal Jeevan Mission, Imtiyaz Ahmad said Rs 440 crores investment in the sector will ensure that pure drinking water reaches to every household.
He said 226 works are under execution while 151 VAPs have been approved by PRIs and Pani Samities.
He informed the parliament member that huge infrastructure is coming up in the water supply sector and outcome will be that 3 crore liters of water can be filtered every day in the district that will be a breakthrough.
Regarding Aap Ki Zameen Apki Nigrani initiative, the Parliamentarian was informed that over 8 lakh Revenue records have been digitized while 10,000 land encroachments have been removed during special drives. Over one lac passbooks have also been generated and issued to people at their doorsteps.
In education sector 70 percent external financial support has been provided by district administration to the department under convergence besides organising talent hunt, exposure conferences and National Science Mela. It was given out that 146 smart class rooms have been established.
The officer also informed about activities to uplift tourism sector in the district and said that record number of tourists visit d Gurez and other toruist places in the district last year.
Khatana appreciated the officers for doing commendable job. He took feedback of each project and discussed the bottle necks that are hindering their progress. He urged the officers to expedite the work to complete the targets well in time.
He also listened to demands of various delegations like SHG's, tribal communities from gurez and Bandipora and from PRI'S. They apprised the parliamentarian about demands including Roads, staff in schools, upgradation of Hajin Hospital, argumentation of power infra.
He gave patient hearing to the delegations and assured their grievances will be taken to logical conclusion.