Jammu based employees harassment is unacceptable, Reduction in the salaries of SPOs is inhuman: Lal Singh
3 min read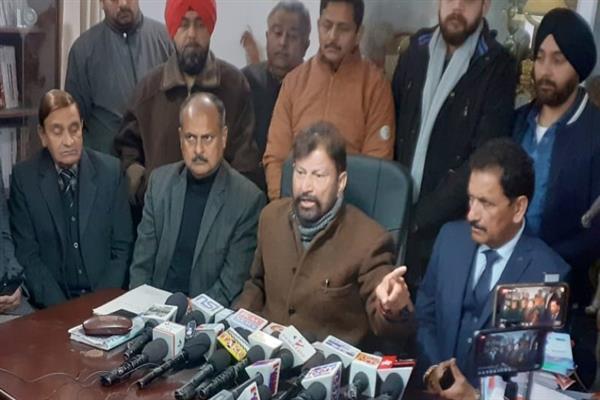 SNS KASHMIR
Jammu, December 25 :
Dogra Swabhimaan Sangathan party strongly condemned the inhuman, mindless and bizarre decisions of the LG government of JKUT which has potential to risk the lives of youth of Jammu. Addressing a Press Conference today, Ch. Lal Singh, Founder Chairman of DSSP said that the safety and security of its people is always the top priority of the state.
These employees have rendered their best services in Jammu and Kashmir since long but now political mishandling of the situation and increasing polarisation in the country has brought these Jammu based employees under grave situation resulting in a threat to their lives. But the Government instead of providing some kind of relief to the agitating employees, has started threatening them of stopping their salaries which DSSP will never tolerate and as we are firmly with the genuine cause of these employees including kashmiri pandit migrants. Jammu is reeling under financial distress. Every section of the society including Youth, farmers, labourers, employees,students,unemployed and even businessmen, all are feeling a sense of insecurity under the present dispensation and nobody's there to listen to the public grievances.
Corruption is at its peak as not a single file is cleared without charging hefty amounts. All decisions taken by the present bureaucracy is to promote the interest of the outsiders whereas locals are being treated as second fiddle. All contracts in the JKUT are being manipulated to give outsiders and all positions of the officers are being strategically given to the outside officers ignoring the local potential.
Ch.Lal Singh , Founder Chairman DSSP flanked by General Secretary Dr.Hari Dutt Shishu, Sr.Vice President K.D. Singh Jamwal, Vice president Balbir Singh Azad, Treasure prof. HR Sharma, further reiterated its commitment that DSSP shall take its fight to its logical conclusion till Jammu, from Lakhanpur to Banihal and Kishtwar to poonch Mandi is declared as a separate state with article 371.
He further appealed to all the sections of the Society to support DSSP which is the ultimate solution to all the miseries of the people of Jammu and a panacea to end once for all the draconian orders of government like recently issued against the SPOs who gave their blood to save the motherland. Those others who attended included Advocate BS Jamwal, Bgr.Vijay Sagar Deeman, Vijayant pathania, Divyansh Varma, Sandeep S Sambyal, S Daler Singh were in the Press Conference.(KNS)