More than two dozen NC and PDP workers from Kupwara join PC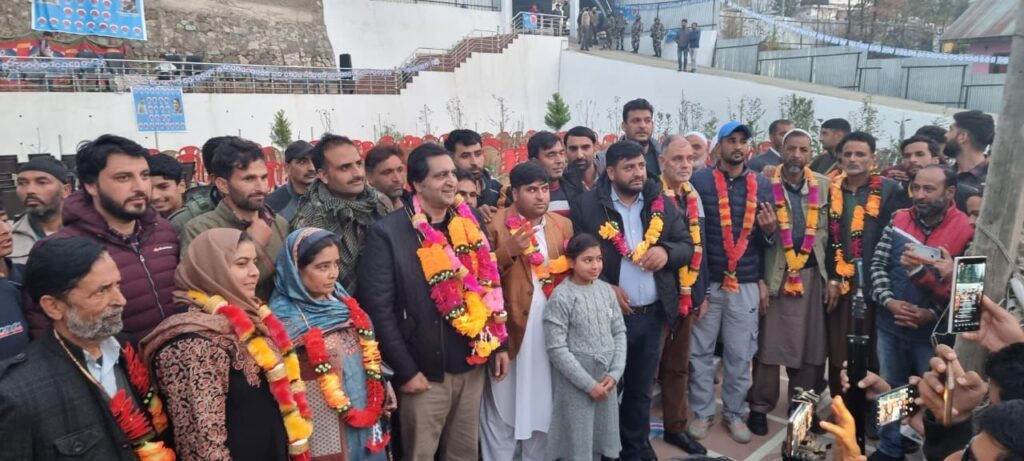 SNS KASHMIR
KUPWARA, NOVEMBER, 04:
More than two dozen prominent NC and PDP workers from Kupwara on Friday joined the Peoples Conference during a public meeting in Hyhama, Kupwara. The new entrants were welcomed by PC President Sajad Gani Lone. PC senior leaders and functionaries including Adv Bashir Ahmed Dar, Fayaz Mir, Chairman DDC Kupwara Irfan Panditpori, Vice Chairman DDC Kupwara Haji Farooq, District President Mir Hafeezullah, DDC Masrat Farooq, DDC Habibullah Beigh, Municipal Chairman Kupwara Riyaz Mir, Youth PC State a secretary Abid Hussain among others were also present on the occasion.
Among those who joined the party include Nasir Ali khan, Afridi Nazir Ahmed Khan, Sunaullah Mir, Ghulam Mohd Mir, Asmat Ali Khan, Ghulam Nabi Khan, Mushtaq Ahmed Khan, Ghulam Hassan Khan, Masrat Begum, Farooq Ahmed Khan, Khalida Begum, Zakir Hussain Khan, Abdul Rashid Khan, Haji, Mohammad Sultan, Abdul Rahman, Ghulam, Mohammad Wani, Mohammad Sultan Ganaie, Abdul Ahad Mir, Mohammad Samandar Khan among others.
While addressing the gathering of workers, PC President Sajad Gani Lone said that Jammu and Kashmir needs politics of inclusivity and hope, not of favoritism and hopelessness. He said that to achieve this objective, Peoples' Conference is tirelessly working towards empowering the people by placing Kashmir first, above all other fragmented identities and differences of opinion.
"Safeguarding the interests of the people, especially the youth of J&K is the biggest leadership challenge in the current times. The people of J&K need a sympathetic and honest government that puts the needs of the people first, above its own partisan interests", he added.
Lamenting the lack of connect between the administration and the masses, PC President said that the woes of the common masses on the ground are mounting with each passing day and that the administration needs to go beyond the rhetoric and make sincere efforts to engage the people of J&K for a lasting solution to the present challenges.