J&K Waqf Board initiates process for take-over of all important Notified Waqf Properties. Requests general public to represent before District Level Committees.
2 min read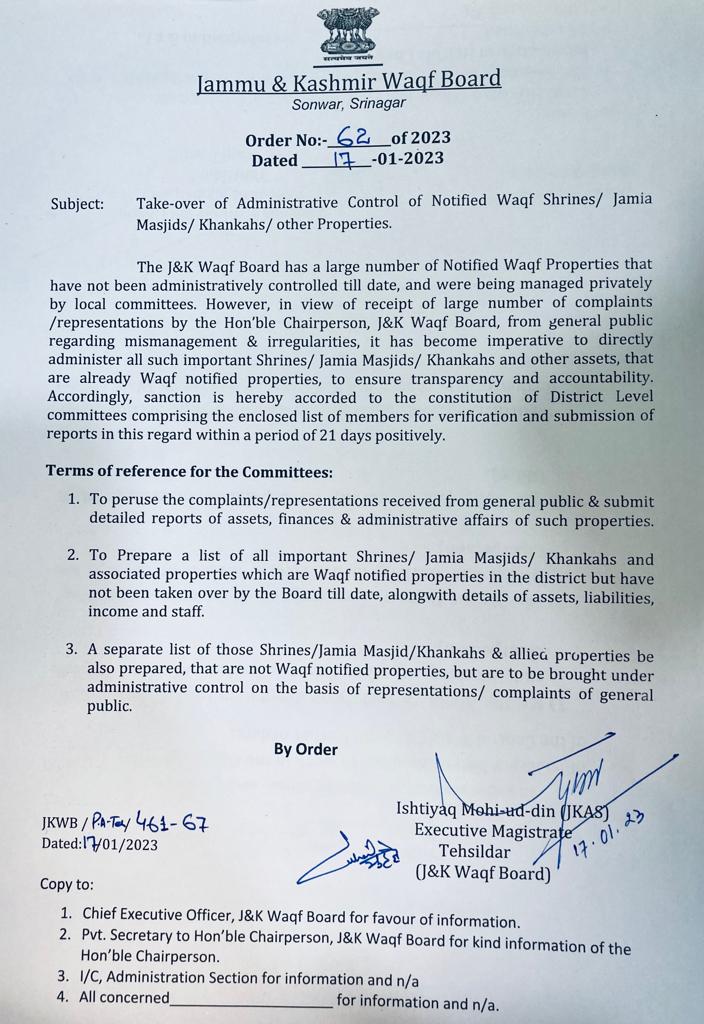 SNS KASHMIR
SRINAGAR, JANUARY, 17:
The Jammu and Kashmir Waqf Board, second largest asset-rich organization in the UT, has initiated the process to administratively control all the important notified Waqf Properties that have been run locally till date. Out of over thirty two thousand Waqf-Notified properties that include Shrines/Masjids/Khanqahs/Revenue Estates/Horticulture, Agriculture & other types of vacant land parcels, a major portion of properties has remained out of the Administrative Control of the J&K Waqf Board till date . Pertinently, all these properties were notified under the two Previous Waqf Acts, but were left to be locally managed by the previous Waqf authorities. However, in view of several reformative & proactive measures taken by the present Waqf Board under the leadership of Chairperson, Dr. Darakhshan Andrabi, Waqf officials revealed that representations/complaints of mismanagement have been pouring in from all corners of the UT and general public has been urging the Waqf authorities to bring all Waqf notified properties under its administrative control.
Through an order issued by Tehsildar J&K Waqf Board, District level Committees have been framed in the first instance for the Kashmir province to carry out verification of all Waqf notified properties and submit details of Assets, Income, staff, and other details. Waqf authorities have also requested general public to contact District Committee heads with their representations in this regard, whose contact details have been also provided as:
Mr Mohd Aashiq Wani(Srinagar, 7006273478).
Mr Ashiq Hussain Bhat(Anantnag, 9682108727).
Mr Fayaz Ahmad Dar(Pulwama, 7006443472).
Mr Bashir Ahmad Bhat(Budgam, 9906531342).
Ashiq Hussain Sheikh(Baramulla, 7006630464).
Mohd Ashraf Rather(Baramulla, 7006808146).
Mr Khursheed Ahmad Wani(Ganderbal, 9419749159).
Mr Sajad Hussain Bhat(Bandipora, 6006642223).
Mr Bashir Ahmad Hajam(Kupwara, 7889473936).
Mr Arshid Hussain Wani (Kulgam & Shopian, 7006418445).