JKRETF Baramulla meets CEO, Dy CEO and DEPO Baramulla
2 min read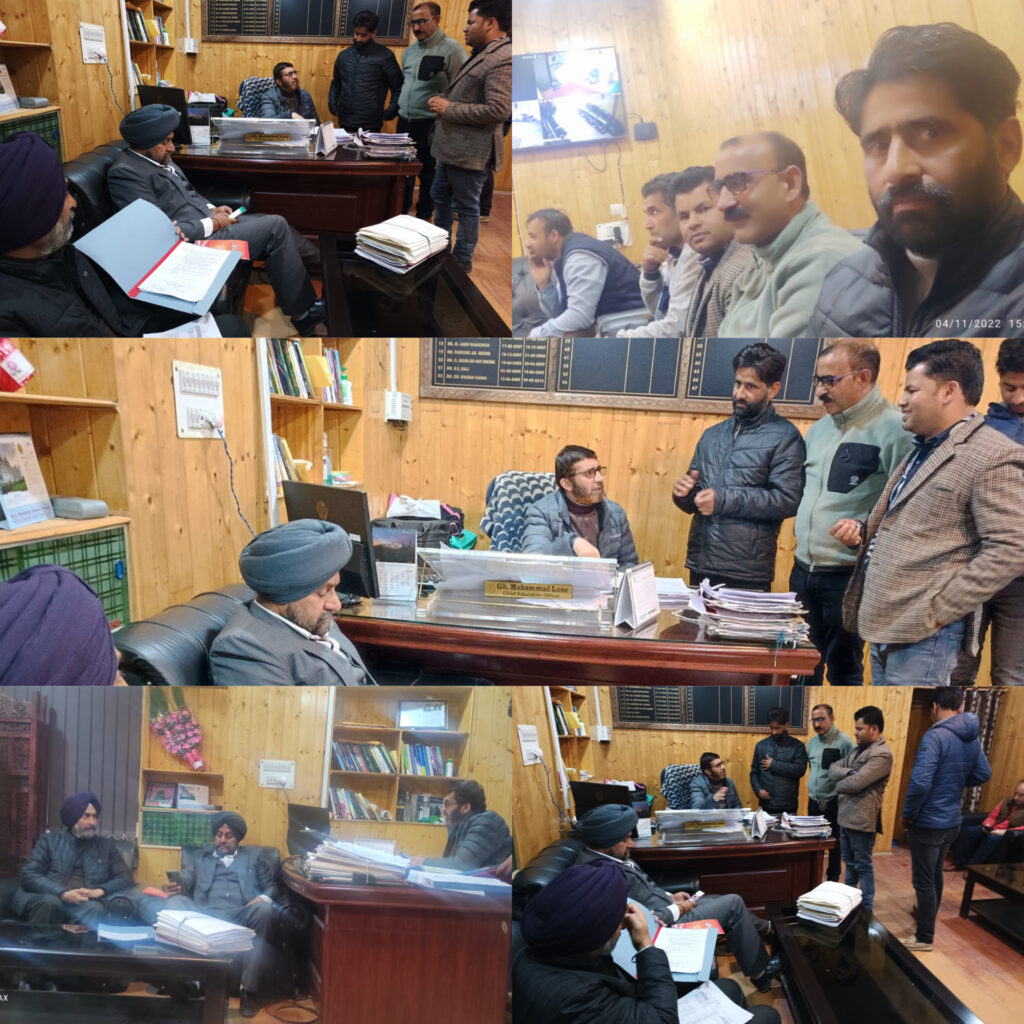 DPC for In Situ TBP in upcoming week, ZPs urged to get files cleared at Zonal Level
SNS Kashmir
Baramulla, Nov.04, 2022: In order to get In-Situ -Time Bond Promotion process speed up, a high level delegation of Jammu Kashmir Rehbar-e-Taleem Teachers' Forum (JKRETTF) led by District President Baramulla Mohammad Yaqoob Bhat flanked by senior leaders Rahi Irshad, Mohammad Iqbal Bhat and District General Secretary Reyaz Ahmad Ganai held an important meeting with Chief Education Officer Baramulla Mr. Ghulam Mohammad Lone, Deputy Chief Education Officer Mr. Balbir Singh Raina, and District Education Planning Officer (DEPO) Mr. Harmohinder Singh at CEO Office Baramulla on Friday afternoon.
Expressing gratitude to the officers for timely redressal of issues of teachers taken up in past meetings besides accelerating process of TB promotions in past several months, District President Mohammad Yaqoob Bhat urged Chief Education Officer Baramulla, Dy CEO and DEPO Baramulla for further expedite the process of clearance of TP files particularly the files having objections as teachers are suffering badly due to delay.
The officers assured that process has been geared up at high sale and there are some flies pending because of delay in clearance of objections at Zonal Level, however, several fresh files of erstwhile Educational Volunteers now Grade-II and Grade-III have been cleared in recent lists.
The high level delegation following up the previous meetings and checked the status of issues already taken up with CEO office besides discussed progress of time bound cases and sought clearance of all pending files in upcoming DPC for Baramulla district.
It was informed that DPC for in-Situ (TBP) will be held within week and CEO Baramulla himself assured that he will keep no pendency till his superannuation which is scheduled at the ending of this month.
"Rest files with observations and tendencies would be cleared on priority," the deligation was informed.
All Zonal President of Jammu and Kashmir Teachers Forum District Baramulla are informed to get time bond flies cleared at Zonal level as early as possible.
Importantly, suggestions are sought from ZPs and District Executive regarding farewell to our worthy CEO and contribution on this account per member.
Head Media Wing JKRTTF Baramulla, J. M Lone