Lal Singh appeals Dogras to join Bharat Jodo Yatra
3 min read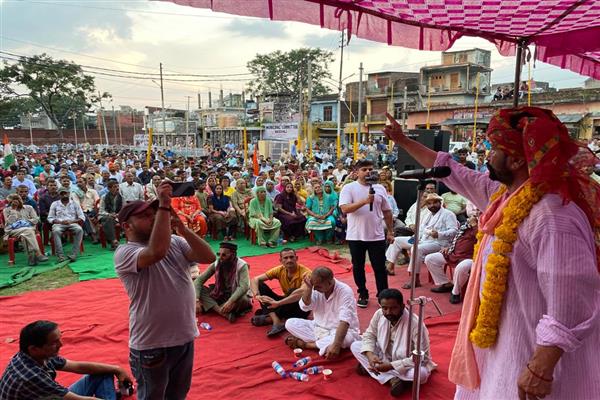 SNS KASHMIR
Jammu January 18 :
In a meeting held today at his residence, Dogra Swabhiman Sangathan Party supremo Chowdhaty Lal Singh appeals all the members of his party as well as other like-minded people of Jammu to join Bhatat Jodo Yatra of Rahul Gandhi which is scheduled to enter Jammu and Kashmir at Lakhanpur on 19 th of January, 2023.
According to a statement issued here, reads, that he terms Bharat Jodo Yatra as an unprecedented event in the history of India and says that it is the moral and political duty of every Indian to become a part of it. "The Bharat Jodo Yatra" says Ch. Lal Singh, "is a befitting rejoinder to the divisive policies of the ruling party, both at the center and the Union Territory of Jammu and Kashmir because the BJP has been surviving on the formula of pitting one community against other and one caste against the other at pan-India level". Ever since the bifurcation of the State of Jammu and Kashmir into two Union Territories, the people of Jammu have been exposed to the whims and fancies of bureaucrats who have been working hand in gloves with the big business houses as well as the local politicians in the exploitation and loot of the natural resources of Jammu. The government employees have also been facing the brunt of the bureaucratic setup in one form or the other and are forced to stage dharnas and protests against
the LG government. Leading the attack from the front, Ch Lal Singh says that the government has either diluted or dissolved almost all the social, legislative as well as judicial institutions in India and rendered them ineffective.
The supremo clarified that the Dogra Swabhiman Sangathan Party stands for the basic principles on which it was founded and will continue to fight for the conservation of Dogra Cultural ethos besides protecting their political and economic rights. In no way is DSSP going to compromise the trust and commitment which the people of Jammu region have invested in the Party. Reacting to the fringe and disgruntled elements of the society, Ch Lal Singh reiterates his stand in Rassana Case where the party demanded the CBI enquiry into the matter.
The party, as per Ch Lal Singh, stands committed to its demand of bringing the culprits of Rassana case to books and ensuring justice to the family of the little girl. Even the High Court of Jammu and Kashmir endorsed the stand of DSSP and cast aspersions on the SIT constituted by the then Chief Minister of the State, Mehbooba Mufti.
All the senior leaders present in the meeting endorsed the decision of Ch Lal Singh and extended their unconditional support to their leader and the principles of the Dogra Swabhiman Sabgathan Party.