Dr. Shahid emphasizes understanding of multifaceted job requirements before entering into public service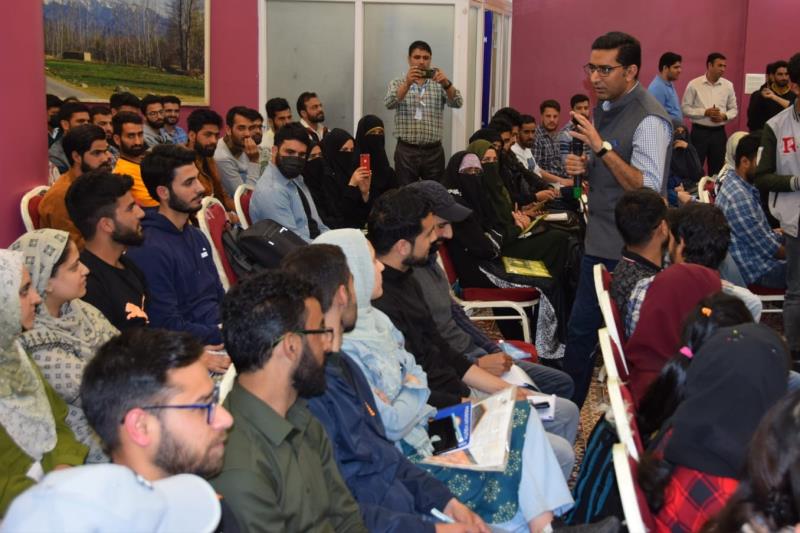 SNS KASHMIR
SRINAGAR, MAY 5 :
Jammu and Kashmir Mission Youth, organized a one day interactive session and career guidance programme for candidates undergoing coaching under PARVAAZ scheme in Srinagar.
Secretary, Tribal Affairs and Chief Executive Officer, Mission Youth, Dr. Shahid Iqbal Choudhary, was the chief guest on the occasion.
Director, CCPC, University of Kashmir, Professor Ishaq Ahmad Geer and officers from Mission Youth, Sajad Ahmad (CAO), Dr. Mohammad Maqbool Deputy Director (P&M), OSDs Tabish Saleem and Dr. Murtaza Rashid and domain experts were present on the occasion.
The event was aimed to provide exposure to the candidates selected under the PARVAAZ scheme through direct interaction and a question answer cum feedback session. The event was attended by around 400 candidates who are presently undergoing coaching at various institutes empanelled with Mission Youth along with faculty members from the coaching institutes.
On the occasion, Professor Ishaq Ahmad Geer, Head CCPC University of Kashmir, spoke on the important topic of career guidance. He stressed upon the importance of managing stress in hyper-competitive examinations like IAS and JKAS for performing well in these examinations.
The most significant event of the program was the direct one to one session of candidates with Dr. Shahid Iqbal Choudhary.
During the interactive session, Dr. Shahid Iqbal focused on candidate's expectations and aspirations which were taken in the form of questions from the candidates. The candidates were also asked about how they relate themselves with the role, responsibilities and expectations from the public servants.
Dr. Shahid emphasized the importance of understanding the multifaceted requirements of the job before entering into public service. He encouraged the students to remain open-minded, mindful of their strengths and weaknesses and avoid herd mentality while preparing for these competitive exams.
Furthermore, Dr. Shahid emphasized on the significance of having a backup career plan right from the day first. He encouraged the candidates not to feel disheartened for not clearing such competitive exams rather take the experience as a learning opportunity to become better individuals and citizens. He also highlighted the crucial role of time management in achieving success in these civil service exams. He also emphasized the value of taking a personality test to gain better insight into one's strengths and weaknesses, which can help in confirming career choices and goals.
He shared his insight on the importance of writing concise and precise answers, staying within the designated word limit to effectively communicate ideas while managing time efficiently.
CEO Mission Youth further advised the candidates to choose the right study materials as it can significantly impact their understanding and retention of information. He also emphasized that besides investing quality time in studies, one should also devote some leisure time in the extra curricular activities of their interest to destress and relax their mind and body.
Throughout the interaction, the students actively participated and provided feedback on the ongoing PARVAAZ scheme. They also expressed gratitude to J&K government for implementing such a scheme that helps to fulfil aspirations of thousands of youth in the region. They also requested to conduct such programs in future also to harness their potential and motivate them to achieve their goals and satiate aspirations.