Chief Secretary J&K, ACS (FC) Home, top civil, CAPFs, police officers, their families participate
Raffle Draw announced; DGP J&K congratulated the winners
Bharat Petrolem Corporation Ltd under its CSR donated 02 Vans to Police public School Jammu during the event
SNS KASHMIR
Jammu, February 19 :
The raffle draw of the 33rd Police Public Mela organised under the aegis of Police Wives Welfare Association (PWWA), was held at Gulshan Ground here today in presence of huge number of people who cheered joyfully during the draw. The Mela was inaugurated by Hon'ble LG J&K Shri Manoj Sinha. The Chief secretary J&K, Shri A.K Mehta, ACS (FC) Home, Shri R.K Goyal, top civil, CAPFs, police officers participated in different functions of the mela. The event witnessed overwhelming participating of public.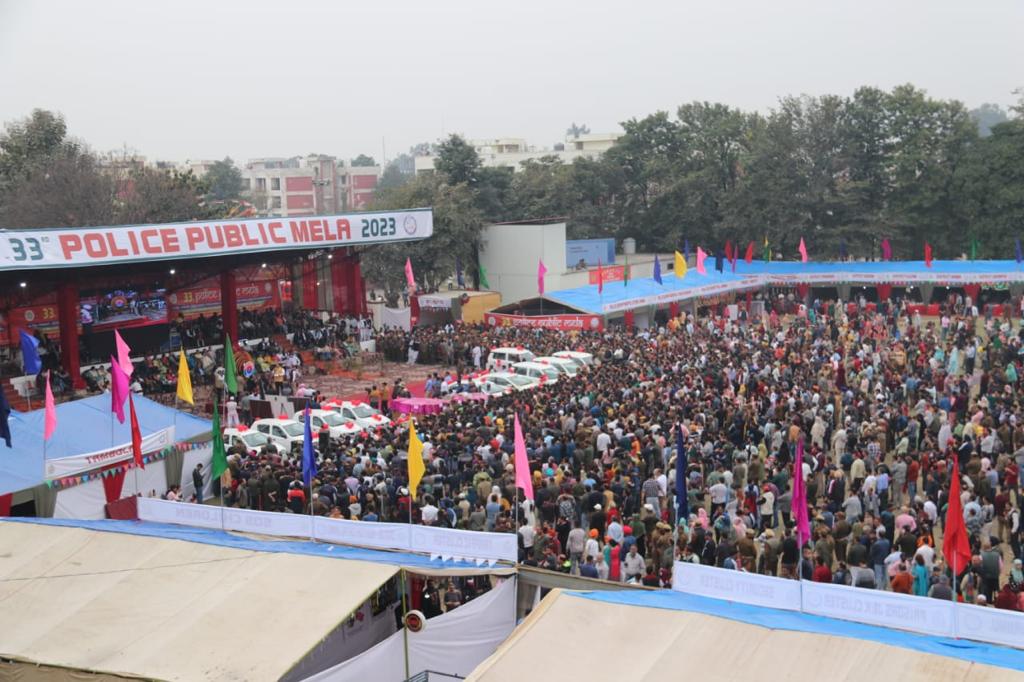 The Director General of Police, J&K, Shri Dilbag, Additional Chief Secretary(FC) Home Shri R.K Goyal, Commandant General HG/CD/SDRF J&K, Dr. B. Srinivas, Spl DGs Shri R.R Swain, Shri A.K Coundhary, ADsGP SJM Gillani, Dr S D Singh Jamwal, Mukesh Singh, M.K Sinha, Danesh Rana, Chairperson Police Wives Association, Dr Rubinder Kaur, Senior PWWA members, IGsP Vikramjeet Singh and B S Tuti, DIsG Sarah Rizvi, Shridhar Patil, Nisha Nathyal and a galaxy of serving and retire cival and police officers attended the event.
The Director General of Police, J&K, Shri Dilbag Singh addressing the gathering thanked the people for their huge participation. He thanked the PWWA members, organising committee and different units of J&K police and all the personnel engaged in making excellent arrangements which helped in conducting the event in a smooth and befitting manner. He congratulated the winners and hoped that the people will continue their patronisation in this mega police-public partnership event . He wished happiness and prosperity for Jammu and Kashmir.
At the end of the raffle draw, Dr. Rubinder Kaur Chairperson PWWA and other PWWA members distributed prizes among the best selected stalls of the Mela. Highest sale among Subsidiary Police Welfare Centres (SPWC); 1st Prize of Rs.10000 was given to SPWC Anantnag, 2nd prize of Rs.7500/- to SPWC Kathua and 3rd prize of Rs.5000/- to SPWC Poonch. Highest sale during Covid-19 to PWC Jammu of Rs.10000/ and highest sale in Meal was given to PWC Srinagar of Rs.10000. Overall presentation of stall was given to District Reasi of Rs.1000.
Earlier, the Chief Secretary J&K Shri A.K Mehta alonghwith the DGP and chairperson PWWA distributed prizes among the winners of Healthy Baby Competition and painting competition. These competitions were organized by PWWA as a part of the Police Public Mela.
In the junior Category of painting competition the prizes were given to Jahanveer singh of J&K Police Public School Jammu, Rayna Dogra of J&K Police Public School Jammu, Soni Kumari of Govt. Girl Hr. Sec.School Gandhi Nagar besides consolation prizes were also given to Aradhya Rana of K.V. No.1 Gandhi Nagar, Avni Thakyal of J&K Police Public School Jammu and Nakshita Choudhary of J&K Police Public School Jammu.
In the senior category of painting competition, the prizes were given to Simran M.V. International School , Sirjan Kour of Carmel Convent Hr. School and Shavi Bhagatof J&K Police Public School Jammu besides Consolation prizes were given to Manpreet Kour, Adarsh Bhagat and Parvarish Choudhary all from J&K Police Public School Jammu.
During the mela Police hospital Jammu organized a medical camp and checked a number of patients besides distributed free medicine. A number of tests were also conducted. The camp also conducted a counseling session during which 40 affected persons were counseled. An official song of Police Hospital Jammu and a documentary on the hospital was also released during the event.
During the mega event, Bharat Petrolem Corporation Ltd under its CSR donated 02 Vans to Police Public School Jammu. The DGP on the occasion thanked BPCL authorities for their noble gesture and hoped the corporation will continue to help police Public schools in future also.
The result of the raffle draw are : Maruti Suzuki Ciaz: A 17083, B 61819, C 18823, D 47927, E 03490, F 82093, G 53612.WAGNOR: A 72925, B 85862, C 19785, D 67398, E 34662, F 33654, G 03312. ALTO800: A 91225, B 15385, C 71237, D 26044, E 01359, F 54530, G 39238. Scooty TVS Jupiter; A 03255, B 75715, C 66373, D 75407, E 11598, F 48045, G 40490. MOTORCYCLE TVS SPORT: A 16112, B 62050, C 16406, D 24173, E 55715, F 12665, G 11554.FULL HD SMART LED (55): A 08682, B 80204, C 63784, D 35179, E 11340, F 01299, G 90726.SMART PHONE: A 98032, B 06496, C 62839, D 34705, E 37204, F 73820, G 63225. REFRIGERATOR ( SINGLE DOOR) : A 48917, B 20059, C 48278, D 01605, E 41855, F 48029, G 79766.SEMI AUTOMATIC WASHING MACHINE: A 58773, B 68619,C 25708, D 51981, E 26785, F 15438, G 83683. SET OF SIX CHAIRS AND TABLE: A 82629, B 64954, C 47551, D 85503, E 35655, F 31162, G 27321. PAIR OF BLANKETS (SINGLE DOUBLE PLY) : A 63778, B 19437, C 64507, D 40598, E 35325, F 47522, G 86793 CASH PRIZE OF Rs 1000, LAST FOUR DIGITS= 2722, CASH PRIZE OF 500, LAST 03 DIGITS: 508 and CASH PRIZE OF 200 LAST 02 DIGITS: 18.