Scale Up Efforts to get Timely Results: Dr Syed Sehrish directs Authorities
2 min read
DC B'la Chairs Meet; Took Review of RDD, PDD Works Under ADP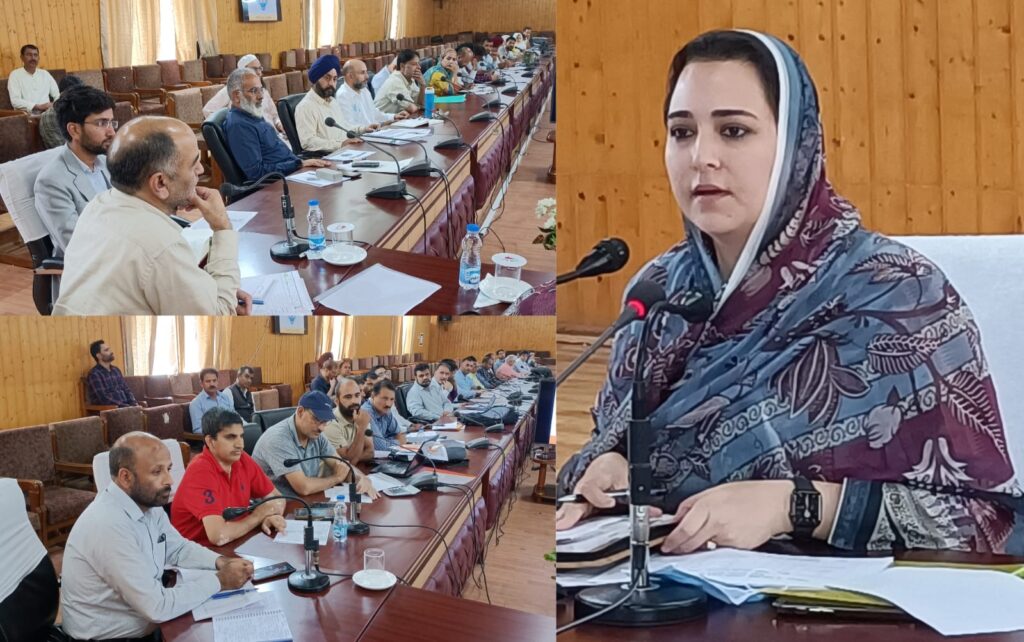 SNS KASHMIR
Baramulla, September 10:
District Development Commissioner Baramulla Dr Syed Sehrish Asgar today chaired a meeting of Rural Development Department (RDD) and Power Development Department (PDD) authorities where she took a holistic and sector wise of all developmental works taken under the Area Development Plan (ADP).
Meeting was attended by Joint Director Planning, M Yousuf Rather, Assistant Commissioner Development, Yaar Ali Khan , Assistant Commissioner Panchayat Gulzaar Ahmed Khan, Executive Engineer REW, Engineers from JKPDCL, BDOs and other concerned functionaries.
On the occasion, the DC took a comprehensive and scheme wise review of all the works wherein the concerned officers briefed the chair about the current physical and financial position.
During the meeting, it was given out that, under PRIs/ BDCs/DDCs grants, 862 works with an cost of ₹40 Crore have been allotted, out of which 754 works have been Tendered while as 480 works has been taken up in which 103 works have been completed.
The DC also took a detailed review about the pace and position of houses being constructed under the centrally sponsored Pradhan Mantri Awas Yojana (PMAY) during which she was informed that 1112 cases have been approved under PMAY(G) for financial assistance, out of which 422 beneficiaries have received their 2nd installment of their approval financial assistance.
After taking a thorough review, the DC directed the Officers to scale up efforts and put extra energy for completing all ongoing work well within the stipulated time frame. She also set fixed timeline for some of the works and applauded some of the officers who had achieved their target within the set time bound. The DC also directed to undertake all current non-feasible works in the next financial year developmental plan.