DC Bla assured the deligation that all the public importance issues will be taken on priority basis.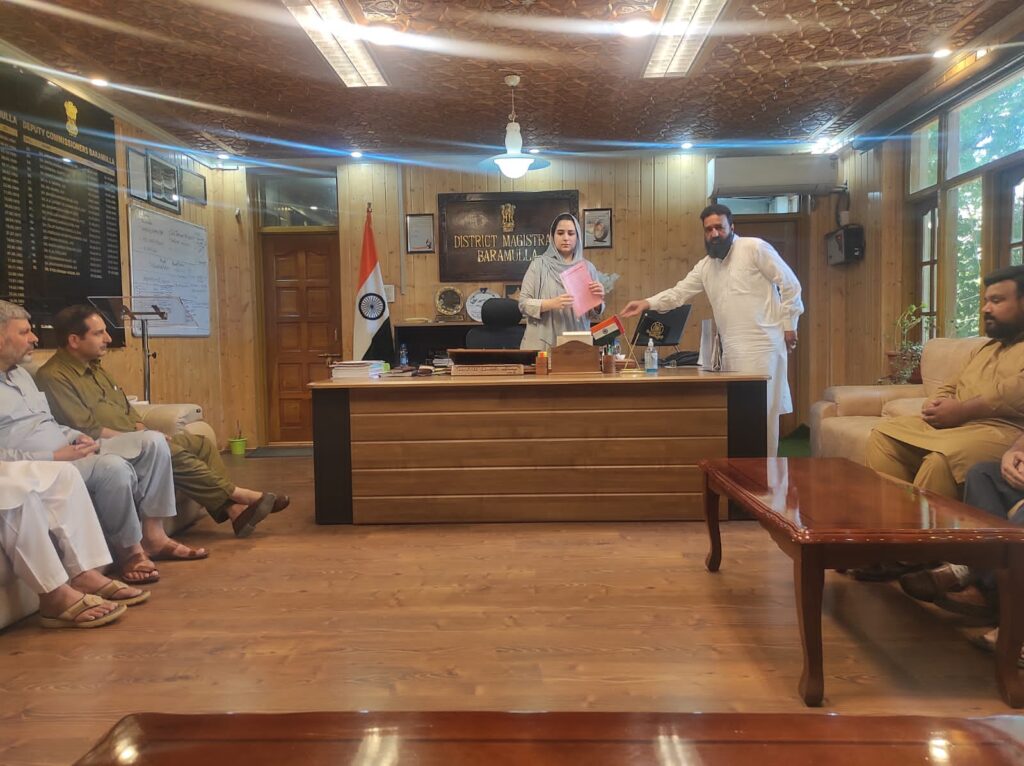 BARAMULLA , AUGUST ,19 :
A high level delegation of newly elected office bearers of Traders Federation Baramulla met Baramulla Deputy Commissioner Dr Sherish Asghar on Friday. The delegation was led by Federation president Tariq Ahmad Mughloo, besides prominent traders secretary Federation Farooq Ahmad Kanroo was also part of the delegation. On the occasion a memorandum was presented to the Deputy Commissioner who gave patient hearing to the demands of the delegation and promised that she will use her influence to resolve all the issues pertaining to the town presented by the Federation. On the occasion, the delegation highlighted the issue of Baramulla Filteration Plant, Bagh e Islam which has outlived it life from last three decades and people of the town are currently drinking contaminated potable water. The DC was requested for exploring the option of potable water from Drang for which proposal was lying with the department. The delegation also requested the DC to get the defunct hospital at Bagh e Islam functional. Though Baramulla Medical College had made the hospital functional for few days but it was closed without giving any valid reasons.
The delegation also sought proper macdimisation of roads in the old town and removal of dividers from the main market. The delegation also requested the opening of a proposed car parking at Noorul Huda market which has already been agreed by the District administration during the previous meetings of Federation with the administration.
The delegation also requested for a cycle track from Sangrama to Baramulla which will add to the glory of historical town besides the dedication of unused land of government at the Friends Colony (state motor garages) and Custodian land at Kanli Bagh for parks and the indoor stadiums for women and children.