Filmmaker Ashok Pandita joins KPs protest in Jammu; demands early relocation of 5000 employees
2 min read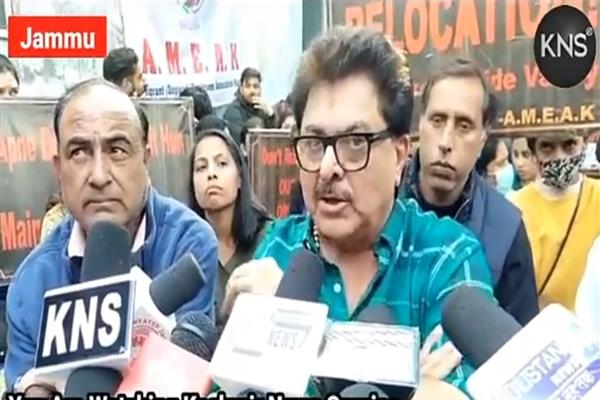 SNS KASHMIR
Jammu, Nov 30 :
Filmmaker and prominent Hindu activist Ashok Pandita on Wednesday joined the ongoing protest of Kashmiri Pandits in winter capital Jammu who are demanding relocation of employees recruited under Prime Minister's package in Kashmir region.
As per KNS reporter, the filmmaker at the occasion appealed J&K administration to take tangible measures for relocation of KP employees posted in several parts of Kashmir valley. He said the KPs are on protest from several months who are simply demanding relocation to Jammu after their several members were killed by unidentified gunmen in valley.
"We can't put our community members at the target of militants. Why we put our lives at risk for no crime. We appeal authorities to take effective measures for the wellbeing of KPs and relocate them to Jammu", Pandita as per KNS told reporters.
He said there are almost 5000 KPs recruited under PMs package and were posted in Kashmir but due to unavoidable circumstances we appeal administration to relocate them and restore their confidence on the administration.
Notably Kashmiri Pandits are protesting in Jammu from past several months, demanding relocation of community members to Jammu after several members and other non-locals were killed by unidentified gunmen in Kashmir valley. (KNS)