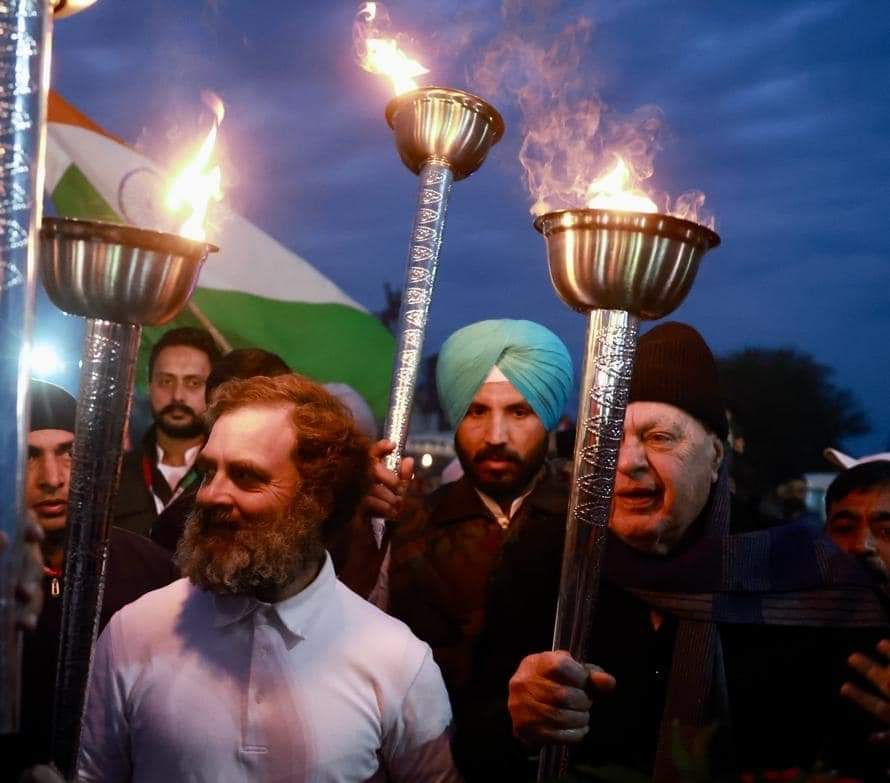 SNS KASHMIR
Jammu, Jan 19 :
Congress leader Rahul Gandhi walked into Jammu and Kashmir on Thursday, the final phase of his Bharat Jodo Yatra that started in Kanyakumari in September and will end on January 30 in Srinagar.
Officials told the Kashmir News Service (KNS), that the BJY has entered Lakhanpur's Kathua district of J&K from Punjab today evening. "After the night halt, Rahul will lead the yatra from Hatli Morh in Kathua from January 20 morning and take a night halt at Chadwal. January 21 will be the break day," they said.
The rally will reach Jammu on January 23 and the party is planning a rally in the city. The yatra would remain in Jammu region for over a week. Former J&K Congress chief Ghulam Ahmed Mir said the yatra would enter Kashmir from Jawahar Tunnel on Srinagar-Jammu national highway on January 27.
"The closing of the yatra, which started from Kanyakumari in Tamil Nadu on September 7, would take place in Srinagar on January 30. "From January 27, the yatra will travel to different parts enroute to Srinagar. A mega rally will be held at Sheri Kashmir cricket stadium in Srinagar on January 30," says senior Congress leader GM Mir.
"My ancestors belonged to this land, I feel I am returning home. I am going back to my roots, I know the suffering of the people of J-K and come to you with a bowed head," said Rahul Gandhi after Bharat Jodo Yatra enters J&K.
He said that the media uses topics such as Bollywood stars Aishwarya Rai and Akshay Kumar to divert attention of people. "BJP and RSS have spread hatred, I earlier thought it ran deep but it does not and is mainly seen on television," he said.
"I have walked from Kanyakumari to Kashmir, BJP and RSS policies have led to widespread unemployment. Govt indulging in mass pickpocketing, it diverts your attention and then loots you," he said.
Rahul lists hatred, violence, unemployment and price rise as main issues confronting country, blames media for not highlighting them.
A senior J&K based politician while speaking to the KNS said that J&K's prominent social and political leaders including former chief minister Farooq Abdullah, Muzaffar Shah, Tariq Hameed Karra, Vikar Rasool, GM Mir, Lal Singh and Shiv Sena MP Sanjay Raut have joined the march at Lakhanpur.
Earlier, Director General of J&K Police Dilbagh Singh said all security needs of the yatra will be taken care of and security will be ensured in every district. "Whatever security measures are needed will be put in place for the yatra," he said adding, "Yatra will be regulated to ensure that people don't face inconveniences.
Jammu and Kashmir Congress president Vikar Rasool Wani said that thousands of people from J&K, including the leaders, had left for the Lakhanpur to welcome Rahul Gandhi's Bharat Jodo Yatra.
He said that thousands of people from every community and every race will join the yatra here nd many issues will be raised before him including removing hatred and communalism and holding elections(KNS)