Elections would be held once revision of electric rolls will get complete, Amit Shah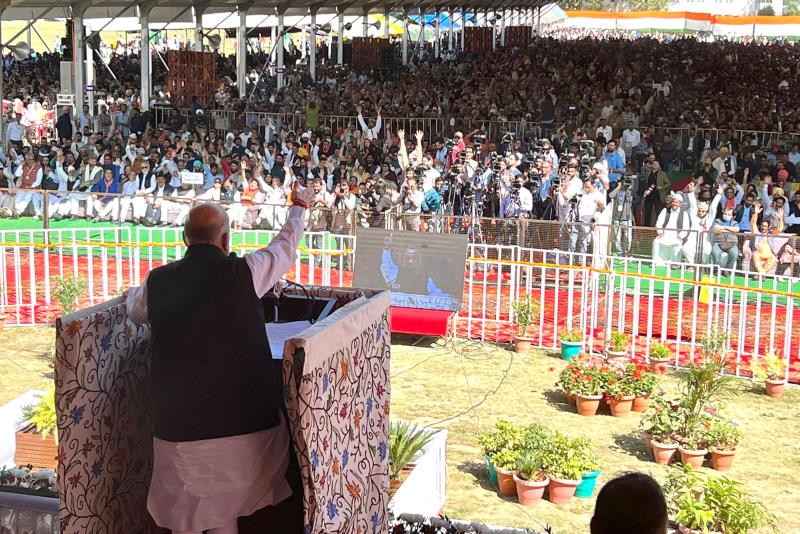 SNS KASHMIR
Reyaz Rashid
Baramulla, Oct 05:
While ruling out talks with Pakistan,Union Home Minister Amit Shah said that free and fair elections will be held in Jammu and Kashmir soon after revision of electoral rolls is complete.
Addressing a huge public gathering at Baramulla Showkat Ali Stadium Shah said that there are two model's working in Jammu and Kashmir viz Gupkar Model and Modi Model.
" Gupkar Model believes in destruction and violence by giving stones and guns to the youth but Modi Model thrust on empowering youth who now dream of IIM & NEET," he added.
Commenting on talks with Pakistan, Shah put down the dialogue process but stressed on listening to the people.
"Some people say we should talk to Pakistan. Why should we talk to Pakistan? … We will talk to the people of Baramulla, we will talk to the people of Kashmir and our youth,"he added.
Amit Shah said that three families, including that of the Abdullahs and Muftis, were to be blamed for the past "mess in J&K"
Shah informed that Modi's model of governance has transformed the Kashmir valley from a "terrorist hotspot" to a "tourist hotspot".
"Earlier, this was a terrorist hotspot, now it's a tourist hotspot. Increasing tourism in J&K has given employment to a number of youth here," the home minister said while addressing the rally.
Targeting past governments, Shah said that three families – Abdullahs, Muftis and Gandhis – were to blame for the "mess in J&K".
"For the last 70 years, Mufti and company, Abdullah and sons were in power here but didn't provide housing for the 1 lakh homeless people. Modi ji gave homes to these 1 lakh people between 2014-2022," he said.
Shah said he wanted to tell them thousands of people attended the gathering and showed their support and love for general public.
He further added that Baramulla wants to remember Maqbool Sherwani because of whom everyone here is within the union of India.
"We want to wipe out terrorism from Jammu & Kashmir so that it remains the heaven of India so that it remains the heaven of India," he added.
The revision of electoral rolls, which started in August, is due to be over by November 25. There was speculation that the election — the first since 2014 — will be held next year after the winter thaw.
This was Shah's first public rally in Kashmir Valley after the revocation of its special status granted under the constitution and the division of the state into two Union Territories.