SNS KASHMIR
GULMARG, FEBRUARY 12 :
Sunny weather blessed at Gulmarg on Sunday giving respite to players and organisers as all the events scheduled for the day were conducted smoothly at all the venues. All the players, coaches, officials donning their jerseys with enthusiastic spirit reached venues early to earn time for final practice before matches.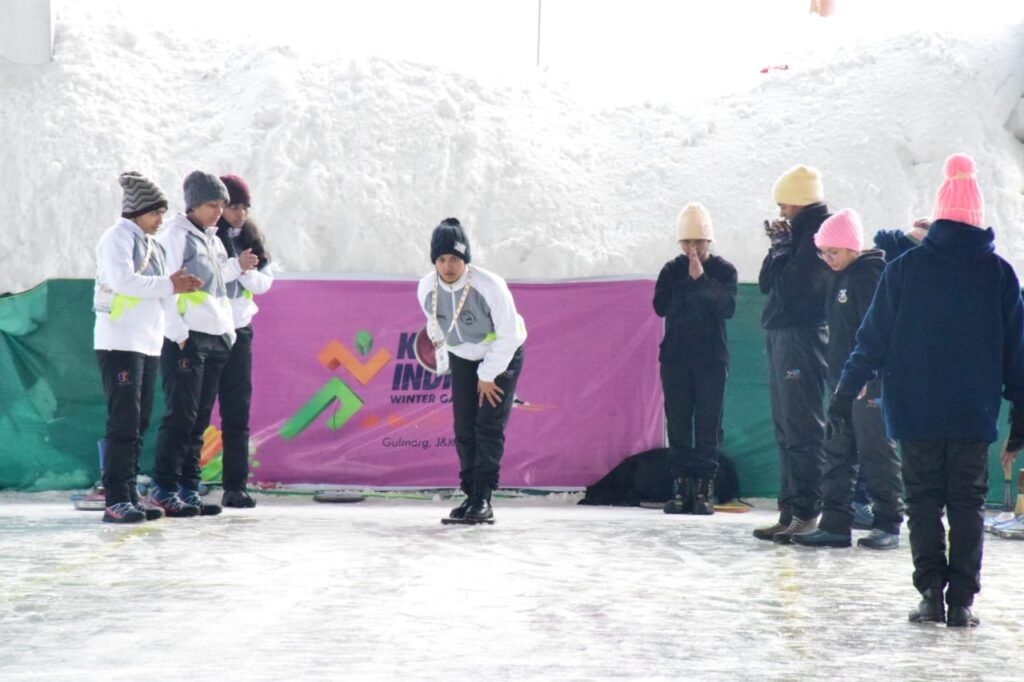 One of the Alpine G slalom players while expressing his happiness said that it is a great opportunity to participate in 3rd Edition of Khelo India. He said that today the weather is very pleasant and he hopes to give his best to make his state proud.
The sports events fixed for 3rd day of Winter Games included Ice Stock, Ice Hockey, Ice Skating, Bandy Curling, Bobsleighing & Skelton, Snow Shoe, Nordic, Ski Mountaineering, Alpine G Slalom and Cross Country.
During the events, a huge number of spectators clapped and shouted to extend support to their favourite teams. Meanwhile winners were awarded prizes by the officers & officials of J&K Sports councils after registering top position by defeating opponent teams & players.
Earlier, In bandy Gujarat registered first position, Haryana second position while Maharashtra satisfied with third position.Similarly, in Ice Skating of 1000 Mtr. for the senior Girls category, Swarali Ashutosh Deo of Maharashtra achieved 1st position, Raina Kukreja got 2nd position and Anushka Merchant obtained 3rd position, both the players belonged to Haryana.
In the same event of senior Men, Suyog Sanjay Tapkir of Maharashtra wrested 1st position, Anubhav Gupta from UP and Padma Gurmeet of Ladakh got 2nd and 3rd position respectively.
In another Figure Skaters event of Boys 13-15 Years, Kapish Kaushik and Utkarsh Saxena both players from Haryana got first and second positions respectively while Ayush Jaguri, Uttrakhand had to satisfy at 3rd position. While in Figure Skaters Girls-15-19 Years, Wafa Tariq from J&K topped, followed by Chelsi Singh of Haryana at 2nd position and Shezan Wani, J&K at 3rd position.
Also, in Figure Skaters age category Senior Girls, Kashish Sharma stayed at top and Suyog Sanjay Tapkir obtained top position in Speed Skaters in Senior Men Category.
Aman Thakur (HAWS) got gold medal in Senior Men Long Distance competition, Ghulam Haider (Ladakh)got gold in Junior Boys Long Distance competition, Dhanalaksmi ( Karnataka) received gold in Senior Women Long Distance category and Sara (J&K) took gold medal Junior Girls Long Distance.
In Nordic 15 KMS (Men) Shubham Parihar ( Army Red) got 1st position and in Nordic 1.5 KM Jr. Girls Shabnum (HP) scaled top position. Farhat Shabir (J&K) & Priyanshu Kawan (UK) achieved first position in Alpine Catogory 01 Boys and Alpine Catogory 02 Boys respectively.
During the entire day, officers of J&K Sports council continued to monitor events by visiting venues and interacting with the players. Secretary J&K Sports council while speaking at Kongdoori said all the events are going as per schedule at all the venues. She said that players were very happy and ready to show their capabilities.
She informed that Union Minister for Youth Affairs and Sports Anurag Thakur instructed the department to organise sports events at other destinations including Sonmarg, Pahalgam Doodpathri in future and other possible venues to promote the winter sports at these places.